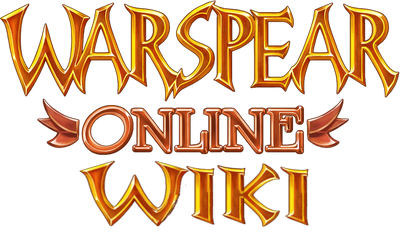 Welcome to the "Warspear Online" Wiki, the informational database built by and for the players of the cross-platform MMORPG game "Warspear online" developed by Aigrind.
This wikia is designed to offer information about the various aspects of the game in the form of listings and guides.
We hope that you find any of the information provided helpful!
Please sign in or register with Wikia before attempting to comment or edit this wiki.
We just like to know to whom we are speaking to and who is helping out.
Our top 4 pages:
New to this wiki, and have no idea where to start?

Want to help us build this wiki?

Our current guides and listing are available on the navigational tabs found on top of every page. Our content is small right now, but it will slowly expand over time.

We have an updated Outfit listing that lists a large selection of available outfits that the game has to offer its players, with images to show what each look like. Or would you like to see what Minions are available?

Or would you like to see what weapons are available via our Equipment introduction page or just to get a better understanding on how equipments work? Not all weapons are currently listed, but we are doing our best to get as many of them as we can. Other equipment listings will be available soon!

We also have a few basic guides such as Classes or  Factions, that lists each available class/faction with a quick rundown on each of them.

We have several advanced guides, but may still require a lot of informational input. Such as Norlant swamps created by Ladygi, or Astral labyrinth. In time, these guides will be completed and new ones will hopefully also be available.

This wiki is still in its very early stages, but will get bigger over time. With that in mind, we are welcoming anyone who would wish to participate and help build the site. Be it contributing information, images, developing new pages, guides, listings, or just offering HTML development support. We just ask you to register with wikia before making any edit, commenting on a page or discussion thread in the forum.

Everyone is welcome to participate in this wiki. The more contributors we have, the faster and better this wiki will grow.

If you do not want to directly edit pages, but wish to offer information, we do have a forum where one could easily create a topic in the spadework section and dump information, so that our editors may apply them to a new or current page. Just be sure that the title covers the topic in question.

We currently have three active spadework discussions that anyone is welcome to participate on, Guilds & Astral labyrinth. If you are unsure what spadework is, please refer to the What is spadework discussion .

Most of our established pages are locked from new and unregistered users as to help avoid tampering, so please do not be alarmed if your edits do not go through. We would like to encourage you to create new functional pages or help with our spadework section in the forum, until access is granted to you.

Thanks for your help and hopefully we can grow together!

To Note:

If you find any information that is incorrect, please mend it if you are 100% sure that the replacement information is correct or notify by using the comment section below the page. Mistakes can and will be made, it is up to us to repair it. Information also may become outdated and incorrect over time, due to the games evolving rate.

We do not officially represent "warspear online" or it's company "Aigrind" and all information & images are the intellectual property of Aigrind. We are merely players who are compiling in-game information for players as they may better understand the game by the use of guides and listings.

Be sure to visit their site and forums . And most of all, enjoy the game
WIKI NEWS:
15/1/2018:

Ninja Owl Has now received bureaucrat's role!

"Hey Born!

I have been planning to revive the Warspear wiki once again together with Aкasha. However, the admin rights that I currently have there are very limited so I would greatly appreciate if you as a bureaucrat could grant either of us the bureaucrat's permissions.

Thank you in advance!"

May the wiki be revived!

~BJDware

20/7/2014:

Please welcome our new Administrators, Non-Secret Agent, Ninja Owl and Maitre X. All of whom have kept this wiki alive with their unwavering contributions.

I Myself have left the game after many years of playing and no longer have the time to continue building this wiki. I Hope others can continue this dream of mine!

~BJDware
BJDware ( aka Born Identities ) (talk) 07:14, July 20, 2014 (UTC)